Welcome to Jack Endino's official Skin Yard site: band history, discography and info. Jack was the only person who was in all versions of Skin Yard.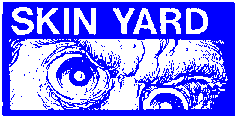 Skin Yard (a Seattle band) was started in January 1985 by Daniel House (bass), and Jack Endino (guitar).
We were joined by Matthew Cameron (drums) who had previously played with Daniel and Tom ("Nerm") Herring in an instrumental power trio called Feedback. Matt came up with our name, which oddly enough means absolutely nothing, but was weird enough for none of us to object. We found our singer Ben McMillan in April '85, and played our first show in June of '85 opening for the U-Men.
Skin Yard made five albums and toured the US and Europe, finally ceasing all activities in Summer 1992. A "posthumous" 6th album was released in 2002, consisting entirely of long-unavailable singles, rarities and other stuff that had never been on CD.
Matt Cameron left amicably in June '86, joining Soundgarden in August. We played 2 gigs apiece with Steve Wied (later of the Tad band) and Greg Gilmore (later of Mother Love Bone, and more recently with Doghead and Ten Minute Warning) while hunting for a more permanent replacement drummer.
That fall we got Jason Finn (now of the Presidents of the United States, god bless 'im), who left after eight months for obscure personal reasons having nothing to do with us. In May '87 we found Scott McCullum (aka Norman Scott, later of Gruntruck), who ironically had once been all but hired for the Soundgarden drum position, until Matt Cameron had, out of the blue, called them and offered his services. Scott left Skin Yard in May '89 after a particularly grievous US tour, fondly remembered as "the tour from hell."
Skin Yard effectively ceased to exist for 14 months, then found a new drummer, Barrett Martin (later of Screaming Trees, Mad Season, Tuatara, Wayward Shamans). Barrett was with us until the end. Daniel House left in March '91 to devote more time to fatherhood, and was replaced by Pat Pedersen (later of Sister Psychic). When Skin Yard began winding down, Ben started Gruntruck with our old drummer Scott, along with guitarist Tommy from the Accüsed. Pat and Barrett jammed and recorded with Jack in Endino's Earthworm. By the time we finished recording our 5th album in Summer '92, it was time to bow out gracefully. Daniel is now running C/Z records full time, and Ben's Gruntruck has more or less retired. Jack is looking for a label for his third solo record, or more correctly, second Earthworm record (on which Barrett plays drums). Barrett has his own label (Fast Horse Recordings) and remains one of the busiest musicians anywhere.
Discography - Skin Yard Albums
(If you want to buy any of these records, check out Jack's Garage Sale.)
Skin Yard - C/Z 003 - January '87


Translucent skin-colored vinyl; must see to believe. So different musically from all the later records that it probably should have been under a different name. Akai 12-track. Jack's first bit of engineering to actually get released. Later reissued on CD with one cut deleted, 7 cuts added and on vinyl (Cruz Records) with one cut deleted, 2 cuts added. Matt Cameron drummed on it, except on 2 of the extra songs (added later) it's Jason Finn.(Details + a closer look)
Hallowed Ground - Toxic Shock TXLP-15 - Spring '88


Half-Inch 8 track Otari. Scott McCullum on drums. This may be our best record. 200 copies on purple vinyl, later pressing of LP has colors reversed on the cover. Reissued on CD with 2 extra cuts. The first song "Stranger" was released as a single, b/w "This Lonely Place" (see "Start at the Top").(Details + a closer look)
Fist Sized Chunks - Cruz CR009 - Spring '90

16 track, 1 inch, 30 ips Tascam machine (never again!). Scott McCullum on drums. Tom Niemeyer from the Accüsed plays on one song, Helios Creed plays on another. We were never entirely happy with the sound of this one, but there are some good songs on it. Some other people like it a lot. CD version has one extra cut. (Details + a closer look)
1000 Smiling Knuckles - Cruz CR 017 - Fall '91


24 Tracks-15 ips! Otari rules. Our most successful and satisfying (to us) record. Barrett Martin's debut as a drummer. Pleasing sounds on this. Cover art by Jim Blanchard, who now does inking for Peter Bagge's "Hate" comix. (Details + a closer look)
Inside the Eye - Cruz CRZ 027 - Summer '93

16 Track Ampex 2-inch at 15 ips. Fat! Pat Pedersen debuts on bass here. Barrett still on drums. We were pretty pleased with it, though Daniel (who was no longer in the band) says he doesn't care for it. Our last proper album. Great Jim Blanchard cover art. (Details + a closer look)
Start at the Top - Singles and Rarities Comp CZ 094 - Nov 2001


All the singles, B-sides, etc. that did not fit on the albums. Some good stuff here. Laboriously remixed and mastered by Jack, recently released by Daniel on C/Z. LIMITED EDITION, HAND NUMBERED. (Details + a closer look) (BUY IT!)
Discography - Skin Yard Singles (7 and 10 inch)
Bleed/Gelatin Babies - C/Z C/Z 004 - Summer '87


"Gelatin Babies" was an outtake from the first album, while "Bleed" was recorded Fall '86 with Jason Finn on drums. (Details + a closer look)
Stranger/This Lonely Place - Toxic Shock TX 009 - Winter '87

"Stranger" was the first song from the (then-upcoming) "Hallowed Ground" album, while "This Lonely Place" was recorded earlier with Jason Finn on drums. Most are black vinyl, a few were orange. The second pressing was pink, hence our '88 tour t-shirt slogan "Seven Inches of Throbbing Pink Jesus" (ahem). (Details + a closer look)
Start at the Top/Watch 7"- Sub Pop SP 47 - Fall '89


Both songs have Scott McCullum on drums, and were recorded right after recording "Fist Sized Chunks". 4000 pressed, 400 on white vinyl. (Details + a closer look)
1000 Smiling Knuckles/Bulldog 10" - Cruz CRZ 702 - Summer '91


Barrett on drums, non-album B-side, 2000 pressed on pink vinyl. (Details + a closer look)
Skin Yard/Loveslug Split 7" - Rave Records RAVE 022 - Fall '91


"Psychoriflepowerhypnotized" recorded live at KDVS by Dave Chisholm. Other side is "Loser Bar" by Loveslug (Tony Slug's band, Amsterdam). Some black, some yellow vinyl. Glitterhouse also did a European edition of this single; colors are a bit stronger on the cover. We're not crazy about this in retrospect because the guitar is a bit out of tune...(Details + a closer look)
Undertow/Inside the Eye/Drinking Kerosene (Live) 10" - Cruz CRZ026 Summer '93


Two tracks from "Inside the Eye", plus a killer live version of "Kerosene" recorded by Vincent Hoet on our '91 Euro tour. This is probably the our rarest record. (Details + a closer look)
Various Artists
Deep Six Compilation LP - C/Z Records CZ-001 Spring 1986


First recorded appearance of Skin Yard (with Matt drumming); likewise for some of the other bands on this comp, which also included Green River, Soundgarden (with Scott Sundquist drumming), Melvins, Malfunkshun and U-Men.(Details + a closer look)
Helios Creed
The Last Laugh - Amrep ARR 89167-2 - Summer '89


Recorded by Jack and featuring D. House on bass, and Jason Finn on drums, who were the fall 1987 Skin Yard rhythm section. Helios (guitar/vocals - he used to be in Chrome) was amazing, and everybody had a blast. If you're a Helios fan - or a Hawkwind fan for that matter, or just a GUITAR fan - you need to hear this. A lot of people have told me it's their favorite Heliod Creed record. (Details + a closer look)
Jack Endino
Angle of Attack - Toxic Shock BOBOK-4 - Spring '90


Jack's first solo record, painstakingly playing all instruments, except for Greg Gilmore's percussion on several cuts.(Details + a closer look)
Endino's Earthworm - Cruz CRZ 021 - Spring '92

Is it a solo album, or a group album? This germinated during Skin Yard's year "off" in '89-'90. With Barrett Martin and Greg Gilmore drumming, Rob Skinner (from Coffin Break) and D. House bassing. Cover by Jim Blanchard. (Details + a closer look)
Gruntruck
Inside Yours - Empty Tragedy-13 - Fall '90

Later reissued by Roadrunner with 2 extra songs, notably the amusing "Crucifunkin'." Ben McMillan, Scott McCullum, plus Tom Niemeyer (Accüsed) and bassist Tim Paul. (Details + a closer look)
Push - Roadrunner RRD 9130 - Fall '92

Gruntruck's biggest record. Single/video: "Crazy Love". (Details + a closer look)
Shot/Illusion/New God CD-EP - Betty Records BTY 0962-2 - Fall '96


Gruntruck's last, hard-to-find 3-song CD-EP featuring Alex Sibbald on Bass and Josh Sinder on drums. BEEN LOOKING FOR THIS? Call Matt Vaughan at 206-938-3279 and tell him I sent ya! He still has a bunch left.(Details + a closer look)
Jack Endino"Permanent Fatal Error" 2005

Jack has finished his 3rd "solo" record. AVAILABLE NOW!
(Details + a closer look)
Skin Yard "The Perfect Lawn" (Live) ...2003

CDR-only, available-on-this-website-only, burn-'em-one-at-a-time compilation of the best live recordings from the Skin vaults. This took a long time to put together, but... HEY! IT'S DONE!
(DETAILS HERE!!)
Some Skin Yard photos are in Jack's Photo Album.
Jack Endino's Home Page

Design & © 1997-2005 Endino