News
July 2005
Some photos have been added to the gallery from the "A Melhor Banda" sessions, 2001, and from a show Titãs played in Newark, NJ, USA in 2004.
---
Jan 2003
The band have their own official website now at
www.titas.net
, with frequent updates by Tony and Branco.
---
Oct 2002
Nando Reis has announced he is leaving Titãs to pursue a solo career. The band wishes him all the best. Titãs are making plans to record a new album sometime in 2003.
---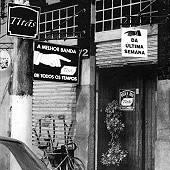 1/18/02
The new CD "A Melhor Banda de Todos Os Tempos da Última Semana" was received very well in Brasil, and has already gone platinum. Reviews have been excellent. Titãs are touring and playing shows all over Brasil to promote it. Titãs were however very saddened to learn about the premature death of their friend, popular singer Cassia Eller, in late December.
---
9/13/01
The new record, to be titled "A Melhor Banda de Todos Os Tempos da Última Semana", is finished! (Translation: "The Best Band of All Time Of Last Week.") The first single, the title song, has just been released in Brasil. Mixing took place at Studio X in Seattle with Jack E. at the board, and George Marino mastered it in New York. The record should be released in October. Everyone is very happy with the results.
Here is a photo of everyone in Studio AR in Rio on the final day of recording... we couldn't believe we had actually finished! From left: Branco, engineer Duda Mello, Charles, Nando, Sergio, Jack, Tony, Paulo. (Photo: Luciano Tarta)


---
7/16/01
Titãs, still recovering from the tragic death on June 13th of founding member and guitarist
Marcelo Fromer
, are currently in a studio in Rio De Janeiro working on their first new CD of all-new material since the "Domingo" album in 1996. The band have decided to continue, and are working very hard in the studio, with the thought that that is exactly what Marcelo would have wanted them to do. There will be no live performances from the band until the record is completed. The record will be the band's first on the Brasilian label Abril Music.
(Read more about Marcelo.)
Last year, the band fulfilled its contract with Warner Brasil by releasing a collection of singles and rarities. Bassist Nando Reis released a solo album called "Para Quando o Arco Iris..." which he recorded in Seattle with Jack Endino and Seattle musicians Barrett Martin (ex-Screaming Trees) on drums and Alex Veley on keyboards. (Nando has just completed one more solo record which will be released on Warner Brasil in 2001, also with Barrett and Alex playing on it.) Titãs then signed a new contract with the huge Brasilian conglomerate Abril Music, and Paulo Miklos and Sergio Britto released solo CDs on Abril. The band also recently changed managers.