MARCELO FROMER (03 Dec 1961 - 13 June 2001)
A True Titan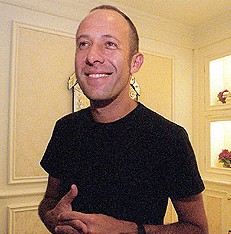 On
June 11th, 2001
, Titãs rhythm guitarist Marcelo Fromer was jogging near his home and was struck by a speeding motorcycle. He was hospitalized and died of massive head injuries a few days later. This terrible surprise shocked everyone, and the reality of it has not yet sunk in. The remaining six members of Titãs, who were just starting the sessions for their first album of all-new material in five years, have decided to continue. It was the only decision possible, and was felt by everyone to be what Marcelo would have wanted. At this writing, July 2001, the recording sessions are going well. Among the songs are some of Marcelo's last compositions with the band.
Marcelo's family decided to donate his organs to those in medical need. His sister Lígia said, "We are trying to make other families happy. We think he should finish as he started, always giving, always generous." This act, still uncommon in Brazil, had tremendous repercussions, making Marcelo something of a national hero. Said one doctor at the hospital, "This is the first time that the family of a famous Brazilian has donated organs in a case of brain death [morto encephalico]. This is an act of tremendous symbolic value that could help change the attitude of the country, where there is still much fear and misinformation about brain death." (One reason why the transplant waiting lists are long in Brazil.) Said more than one headline, "One life to save many lives." Several grateful people recieved Marcelo's heart, liver, kidneys, corneas, pancreas. "The man was a true Titan," read one letter to a newspaper.
"Our Brother Marcelo has died. We lived with him every day for more than twenty years. Marcelo was always a source of good cheer for us. (Translation note: words used could also be read as "donor of happiness," a reference to the donation of his organs.) It is impossible to express in words the importance that he had, not only musically, but in the lives of each of us. Just as his organs will live on in the bodies of other people, his art will continue in the music and spirit of Titãs." -- Part of the official statement released by the band on the day of Marcelo's death, also signed by ex-Titan Arnaldo Antunes.
"Despite the pain that Marcelo's absence has caused, we have decided to enter the studio to record this record that we created and arranged together with him, about which we were -- and still are -- enthusiastic. We feel that the best way to overcome this difficult moment is to continue with what always held us together: the music. Once again, thanks for all the support and kindness from fans and friends." -- Statement dated June 20th, 2001 from the
Official Titãs Website.
"I've lost my best friend." -- retired Brazilian soccer star Casagrande, about whom Marcelo was writing a biography, which Nando Reis may now complete.
Here is Marcelo in Seattle, 1999, during the sessions for "As Dez Mais".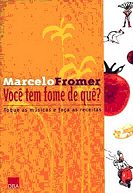 This is the book Marcelo wrote in 1999, "What are you hungry for?", which contains recipes and stories about good food from all parts of Brazil, gathered in his travels around the country with Titãs... and some of his song lyrics. At his death he was planning another book on cooking as well.
Marcelo is survived by four children, his wife, his ex-wife, his mother and a brother and sister.